Interview video created by Avril O'Sullivan Photography, Cork Ireland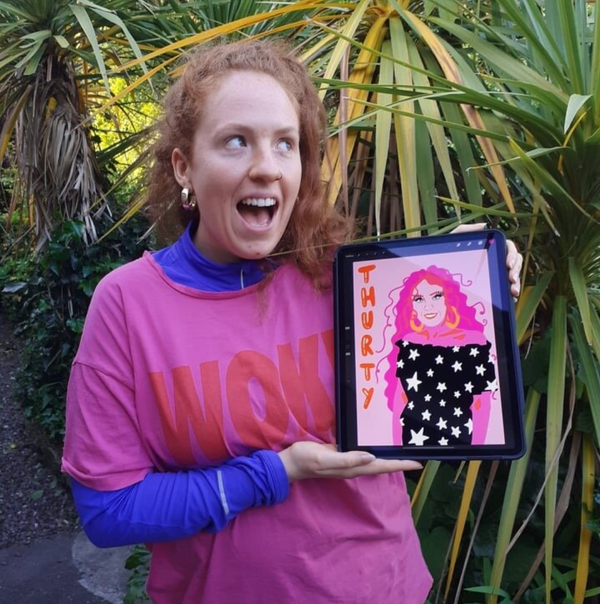 HELLO! My name is Susan
I am the Illustrator and Designer behind this one woman Irish business! I love to live life colourfully and create art alongside my beautiful dogs! My company is named after my two SAUCY PUPS, Missy and Charlie. They make me so happy!
After many years of industry experience in Graphic Design, I decided to follow my passion, and focus my attention on Illustration. My love for BOLD, JUICY COLOUR is evident in my work and I aim to bring a sense of joy and happiness to all my pieces. SAUCY PUPS has grown to offer a wide range of gloriously colourful products, including the well loved 'Tiny Town' illustrations, happy stationery and greeting cards.
Having an online store allows me to express the brand in all its vibrant, colourful glory. The happy, colour-filled website is helping Saucy Pups become an increasing well-known and loved Irish brand.

**We are a proud Irish Company. We design everything in Cork, Ireland and almost all our product lines are printed in Ireland**
some milestones (in no particular order)
Christmas Pop Up Shop 2022

The excitement was unreal opening up my second Pop Up shop for Nov & Dec 2022. We had an amazing location to create a stunning store for everyone to enjoy. Super proud moment for me seeing my name above the door! Thank you all for your support over the Christmas Season!

Illustrated a huge play area in Cork!

This project was a big one! The hugeness of the unit was a little daunting to begin with, but it soon turned out to be a dream come true! To be fully immersed in my own illustrated world was an amzing feeling. The play area is open 7 days a week in Douglas Village S.C. Cork if you want to visit.

I created a homeware line!

I created my own homeware line this year! Luxurious cushions made of the softest material. Covered with gloriously colourful illustration and super cosy. We SOLD OUT of our Cork cushions extremely quickly, thank you!!
First Website Launch

I remember this day, I was absolutely buzzing. I couldn't believe that I had built my own website. Not only did it open the opportunity to make selling easier - it also reinforced that I was serious about growing my business. (June 2020)

first car boot sale

This was so cool. In the summer of 2020, I had my first car boot sale in Fountainstown. I took 2 weeks off my other design job to create my very first collection. I built my first stand around some big puddles and had the best laugh. (July 2020)

famous! Yay Cork

I woke up one morning to a million notifications. I literally could NOT believe that Katie from Yay Cork had written the most unreal article about me, featuring my work. This was a big milestone for me. I felt famous! You can read that article here.
marina market cork

It was a hot, sunny day and I wore a black velvet jumper... But it felt great to have a pop up stand at the very first Marina Market, Cork. There was a big brass band and my energy was so high!

big post run

After the successful launch of the Christmas collection of 2020, I had a nice big box of orders to bring to the post office. I was so grateful to have so many people order my work!

first real life shop!

Christmas 2021 was my boldest move to date! I opened my first Pop Up Shop in Douglas. In one mental month, I designed the whole shop and everything in it. A huge achievement for me!
DIY (Or ask your dad)

My Dad and myself built all the units for my shop in our kitchen first. Then we took everything apart and rebuilt them in Douglas. Here I am inside the central unit with my drill, helping my Dad.

40 ft mural in douglas

This was my biggest ever illustration. 40 feet of blank wall - it was a bit daunting. But I was SO HAPPY once I saw the completed piece. Here is a fun video of the before and after. Enjoy!

why saucy pups?

I knew I wanted to name my company after my two dogs, my two SAUCY PUPS. This photo was taken before a product photoshoot in a graveyard (of all places).
cover girl!

Believe it or not - I was actually a COVER GIRL in 2021 😂 The Echo did a full cover and a full page article on me living my dream. A hugely proud moment for me. You can read the article here.

pup couture

I got to work with Irish brand 'Fred & Ginger' to create a range of Dog Apparel. Ehm... dream job! And they kindly sent me down a full outfit for both my SAUCY PUPS. They looked so cute!

flat pack pro

This is a photo of me on a flat pack rampage! I was building my studio in my brother's old room and I felt so lucky to have a space to create in. I still work form this studio (except it is a lot fuller now!). So grateful to have this space.
my family

Christmas 2021 in my Pop Up Shop was a bigger undertaking than anyone could have imagined! I was so lucky to have loads of help from my family. We had such a laugh and it was a great family effort by everyone to create the BEST SHOP EVER!

guest speaker

In 2022, I was asked to give a guest lecture in both MTU and UCC. It was a great opportunity for me to reflect on my journey so far and take some time to feel proud of myself.

my house is full!

My Dad built a unit for my shop in our kitchen. At this stage in October 2021, my whole house was full to the brim of wood, frames, shelving, products, paper...Oh my god, it was crazy. I don't know how they don't kill me.